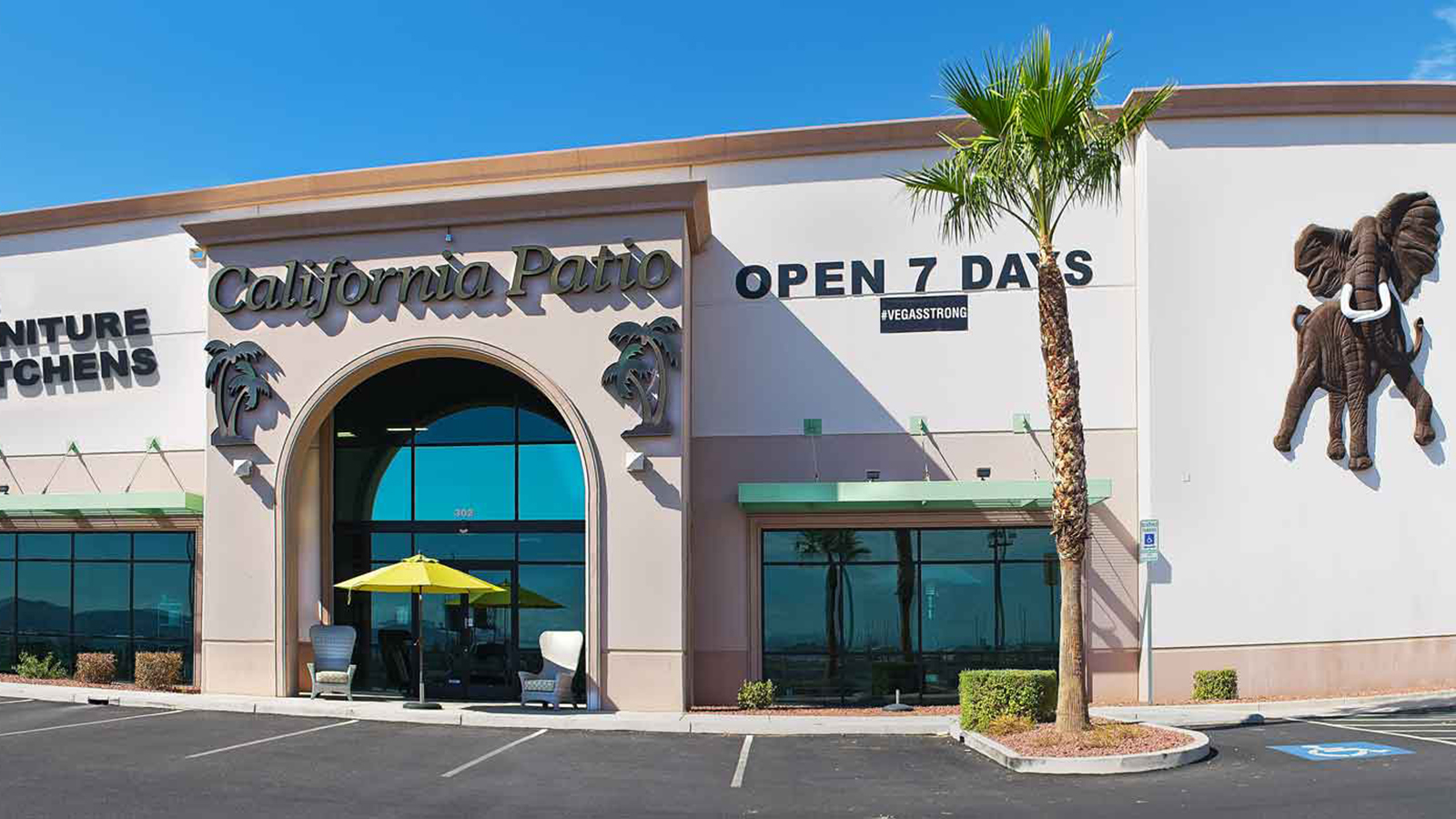 7770 Dean Martin Dr #302
Las Vegas, NV 89139
HOURS
Monday – Saturday: 10:00 AM – 5:00 PM
Sunday: 11:00AM – 5:00PM
Special Jan 2023 Hours: We are closed the following dates in January: 9-10, 22, 25, 28
Welcome to our Las Vegas Showroom! We are a family-owned and operated business with almost four decades in business. We guarantee everyday low prices and the best selection of outdoor patio furniture, BBQ Grills & Accessories that are readily available for delivery or pick up. We also offer custom options with a dedicated staff with years of knowledge to assist in making the best selection for your outdoor furniture needs.
***Please Note: Our showrooms are constantly changing and the Google Street View Map may not be fully represent the current configuration***
Jose and Linda have been so caring and understanding! They made it seamless to help me and what my needs are. Refined customer service is

...

apparent! From outdoor Heaters to the biggest baddest BBQ pit ever!!! Thank you!!

read more
Great store, Great selection, Great staff.
Great quality and selection. Linda was very helpful and followed up promptly with the information requested.
I bought an umbrella from them last summer and the service and umbrella was so good, I just bought another one. Jose was so helpful from purchase to

...

setting up delivery. George and Miguel who delivered the umbrella today went above and beyond to help me. I highly recommend this California Patio store (Dean Martin Dr. Las Vegas location)

read more
We are long time customers of California Patio and have always found the staff very friendly and knowledgeable. Our patio furniture still looks

...

great due to the quality and keeping it clean regularly. We would highly recommend this store, great selection, unique products and great service.

read more
What a great experience working with California Patio and I highly recommend. The staff is friendly and knowledgeable in addition to providing great

...

recommendations. The showroom is the best I've seen with hundred of options to choose. If your looking for outdoor decor and essentials with reasonable pricing this will be your one stop shop.

read more
Excellent selection of outdoor QUALITY patio furniture. We shopped the Dean Martin store. Jose was so pleasant and extremely helpful. Just the

...

right amount of help and not the pushy salesman in anyway. We were in a rush for patio furniture and we were able to take The selection directly from the floor model. The quality is nothing compared to some of the junk you find out there. This is high quality furniture and we expect it to last for many years. Definitely worth the extra money. Loved how they had so much more selection available if needed.

read more
Beautiful furniture! Exclusive items
Great customer service ! Quick and responsive and great prices. I have been looking for tucci umbrella's and someone to install them and I found it

...

all here!!

read more
Jose was so incredible to work with! Excellent service and knowledge building our oasis. He came and measured our space during a complete

...

construction site and had the vision. We are so happy with Jose and California Patio and we would recommend him and company!

read more
Excellent selection. Very happy with all of our purchases
Wonderful sales staff! Linda and Jose were very helpful, informative, and proactive in getting the answers I needed. The furniture they carry is the

...

higher end brands so the quality is top notch.

read more
California Patio has been wonderful and they are a good value. Their selection and availability is the best in the Las Vegas Valley and they take

...

care of their customersfrom the sale to the delivery.. Jose, our salesman, was a pleasure to work with. He is very knowledgeable and friendly. We had gone to many other stores, but no one had inventory. California Patio had a large selection of in-stock items and they were able to deliver our productsquickly. We recently bought 2 cantilever umbrellas from them since we could have delivered and put together within days of buying them. We highly recommend California Patio!

read more
Always super helpful and friendly. Great follow-thru! Awesome selection! Definitely recommend!
Tim was so helpful!!! We were in search of a specific drawer for a grill. Nobody in Vegas, or surrounding states, had what we needed. Tim is the

...

ONLY ONE that spent time searching out what he had in stock that could possibly work and how to make it work. He wasn't just trying to make a sale, he took the time to listen and find a workable solution!!! That work ethic is hard to find and so appreciated!!!

read more
We still have our first patio furniture that we purchased over 15 years and it still looks amazing. We needed to add some new chairs to our set and

...

the staff helped us find the right ones. They are beautiful and the quality is amazing. A++++ 100%

read more
Purchasing our outdoor furniture with California Patio was the best decision we have made. Jose was amazing to deal with and helps us 4 years after

...

we purchased it! This is a classy company that does things right!

read more
When I could not find what I was looking for California patio came through and had exactly what I was looking for at a good price. Everyone was kind

...

courteous and professional I felt very comfortable. And I recommend California patio to to everyone Looking for their backyard needs

read more
Wow! Great large showroom and wonderful customer service. We bought items off the floor for delivery that friday. They forgot and item to be

...

delivered and WENT BACK AND DELIVERED IT the same day. No hassles. Awesome service

read more
Very helpful and nice to work with.
So friendly and Great customer service !
We We're looking for some good service we didn't find it another patio store and found it in Linda! We bought a treasure garden cantilever 11 foot

...

umbrella and well it hasn't been delivered yet the initial experience was great

read more
Just had the BEST experience buying outside furniture from Jose. Professional, accommodating, PLUS funny! Perfect combination- life is too short to

...

buy stuff from people that aren't this nice. Go see Jose!

read more
Was driving by and decided to stop in. Great looking store with some high quality bbq grills and patio furniture. Check them out if you get a chance.
Over priced...wasn't impressed
I had a very good experience, I wasn't rushed and was able to take all the time I needed to evaluate all the different types of furniture. I decided

...

to customize my patio furniture and was given a great deal of help with the samples. Ordering was very easy and the salesman was very helpful throughout the experience.

read more
Linda at California Patio was awesome to work with on my purchase of a grill. She went above and beyond to get me exactly what I wanted in the

...

configuration that I wanted and arranged freight for it to be shipped to Montana. A very satisfied customer.

read more
Jose is one amazing gentleman. He keeps up with his customers and keeps you informed. I really have to say best communication I have ever had with

...

the department of SalesThank you so much for all that you do Jose.

read more
Amazing staff and great selection!
Awesome furniture with a variety of styles to decorate your yard to your teast.
I had many objectives when I was on the hunt for a new patio table. Certain size, extendable, certain color, certain style, certain dimensions. I

...

checked California Patio and found exactly what I wanted. I emailed California sales and they mailed me back pictures of the tables that fit my description.Shawn, the salesperson was very attentive and helpful. I purchased the table and am anxious to put the table in my back yard. It's a beautiful table and exactly what I wanted.Ardis

read more
Great layout. Pricing pretty good.
Outstanding customer service with Pablo at California Patio. He was patient, kind, knowledgeable and thoroughly answered all my questions. Pablo made

...

the buying experience of my outdoor patio furniture enjoyable. I love it and get compliments from my friends. Highly recommend asking for Pablo if you stop by the store.

read more
Great products and peerless after-sales support. Jose and the crew were quick and efficient. Very happy repeat customer of California Patio.
Linda, Pablo and Tim are Great!Very knowledgeable, great selection and great prices!
This is my second purchase of a high ticket item from California Patio in the past 5 years. Excellent service and pricing. Linda was a huge help

...

during our decision to purchase a firepit table and chairs. She literally spent hours with my wife and I as we decided the best options for our needs. Linda guided us through all the options and styles and gave us the feedback we needed to make an informed decision. She is extremely helpful, patient, knowledgeable, and friendly. Thank you again Linda.

read more
We had a wonderful experience purchasing a Blaze grill at California Patio. We worked with Shawn, who was very helpful and knowledgeable about the

...

product. We would highly recommend them for patio furniture needs, as well as, bbq's and accessories.

read more
California Patio has a huge selection of beautiful, high quality outdoor furniture and bbq grills. The staff is very friendly and knowledgeable. I

...

would definitely recommend them.

read more
Current Showroom Floor Collections